PAKISTAN 1–15 July 2014
Secretary General
Our organisation in Pakistan, the Commonwealth Ex-Services Trust (CEST), formerly known as the Commonwealth Ex-Services Association of Pakistan (CESAP), is a voluntary committee. The Chairman, Brigadier Rustom Darrah is very well supported by a committee of 5, who in turn are well supported by Sqn Ldr Varris Hasan, the General Secretary, a Welfare Officer and an Office Assistant. There are now 2 Field Officers who cover the areas of Gujrat and Chakwal. Previously there had been 8 Field Officers but these had been reduced in order to cut costs. The Pakistan Armed Services Board (PASB) now covers the areas where CEST no longer have a Field Officer but the bulk of our beneficiaries are in Gujrat and Chakwal. The CEST office moved last year in order to reduce costs and re-locate to a safer part of Karachi. They do not have a sign outside the office as there are often large demonstrations in the area and they do not wish to attract attention. CEST currently have over 3,600 identified and eligible veterans and widows.
Mrs Henrietta Jacob (shown holding a picture of her husband) lives in a Catholic enclave in Karachi and is suffering from ailments due to old age. Her husband joined the Royal Indian Navy in March 1942 and served in many stations, including Burma, as a typing instructor and in the communications field. He served on HMIS Dalhousie in 1943. He finished his service with the Royal Indian Navy in November 1947 whilst serving with HMIS Himalaya. He died on 21 April 2004 and Mrs Jacob relies on her grant from RCEL to supplement the support given by her daughter who lives in the USA
BANGLADESH 1–15 July 2014
Secretary General
The Bangladesh Armed Services Board (BASB) represents RCEL and was set up in 1972, after the split from Pakistan, to serve the needs of all 3 services of the Bangladesh Armed Forces. The HQ is in offices in Dhaka, away from the MOD and main HQs but more accessible to veterans who need to visit the offices. The Dhaka District HQ is co-located with the BASB HQ as is the small surgery and Doctor who is funded by the RCEL Medical Grant. The Organisation is not funded to support pre-independence veterans but the current Director and indeed all senior officials I spoke to could not have been more supportive and grateful for the work that RCEL undertakes in Bangladesh. BASB have started to financially support some RCEL veterans on a case by case basis but there was a plea for additional help with funeral costs for RCEL veterans. Subsequently, a grant of £2,000 was agreed by the RCEL SCOWP Committee. There are over 530 eligible veterans and widows registered with BASB with the large majority requiring assistance.
KENYA 10–20 November 2014
Secretary General
The Defence Forces Comrades Association (DEFOCA) with the support of the Kenya Legion represents RCEL in country. DEFOCA has a membership of over 39,000, the vast majority being post independence veterans which is their main focus. They have identified over 1,000 eligible veterans and widows of which approximately 600 are in need and receive assistance from RCEL. DEFOCA and the Kenya Legion are both very well organised and run.

During the visit to DEFOCA a meeting was held with three World War 2 veterans who receive grants from RCEL.

The visit to the Kenya Legion included a home call to Mr and Mrs Jordan Hoareau in a suburb of Nairobi. He lives in a small shack which he rents from a Somali. His parents were originally from the Seychelles but moved to Nairobi when he was a child. He served between 1950 and 1953 in 2040 Company of The Royal Pioneer Corps in Egypt and Suez Canal. He has no income and is supported by the Legion Kenya with RCEL grants. Subsequent to this visit, an application was submitted to the Royal Logistic Corps Regimental Association who generously provided a general needs grant in addition to that provided by RCEL.

SEYCHELLES 10–20 November 2014
Secretary General
Effectively, there are two separate groups of veterans in the Seychelles. The Seychelles Ex-Servicemen Fund (SESF), who care for ex-servicemen post World War 2, and the Tobruk Club, who care for World War 2 veterans and widows. The former were formed in the mid 1980s by those who had joined the British Army in the late 1950s and 1960s (mostly RAMC and Royal Signals) while the Tobruk Club is made up of Pioneers who fought in the last war and those recruited immediately after the war to help clear up the North African battlefields and those in the Middle East. There are over 260 eligible veterans and widows registered with these two organisations, 5 of those being ex World War 2 veterans who receive grants from RCEL. The overarching source of income is the SESF which has a committee made up of both groups. This committee distributes grants to both groups with the vast majority being awarded to the Tobruk Club group.

MAURITIUS 10–20 November 2014
Secretary General
The Mauritius Ex-Services Trust Fund (MEST) became fully operational in 2005 and subsumed 4 different ex-service organisations under one umbrella. MEST receive strong support from the Government and currently have declared over 2,000 veterans as eligible for support. The organisation and control of the Trust Fund is impressive and the meticulous records of all grant payments are maintained by Mrs Jacqueline Pascal, the daughter of a World War 2 veteran, who has been with the organisation for many years. As is the case in St Lucia, the cost of diapers for quite a few of our veterans was an issue and the medical grant provided by RCEL was used to offset these costs as well as providing certain drugs and medicines that cannot be obtained through the Mauritius National Health Service.

MALAYSIA 10–19 July 2014
Controller Finance
RCEL is represented by the Malaysian Ex-British Army Association based in Kuala Lumpur. This relatively new organisation is now well established and administered by a very enthusiastic committee led by the President, Mr Che Onn Bin Neamat, who is the driving force and dedicates a great deal of his time to Association matters. Since the formation of the organisation, membership has increased considerably and there are now in excess of 1,000 veterans and widows registered of which 164 receive support from RCEL. A large proportion of these are supported through our Agency work and we must acknowledge with thanks the grants provided by the Royal Logistic Corps Association Trust, Royal Signals Benevolent Fund, ABF The Soldiers' Charity and the Royal Electrical and Mechanical Engineers Benevolent Fund to name a few. Modern day Malaysia was only formed in 1963 and with the increasing numbers of identified veterans and widows, there is likely to be a need for RCEL support for some time in the future.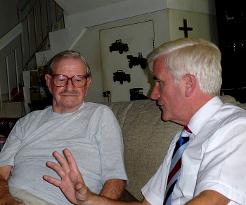 Controller Finance with Clifford Standley who served with the Royal Signals between 1944 and 1948. After discharge he joined the Singapore Police Force. Clifford suffers with hip problems and recently broke his left arm; he requires full-time care. The Royal Signals Benevolent Fund support him with an annual grant.

SRI LANKA 10–19 July 2014
Controller Finance
In Sri Lanka, the Sri Lankan Ex-Services Association (SLESA) continues to vigorously promote Remembrance each year and receives more Poppies each year than any other organisation. Their successful annual campaign contributes significant amounts in direct welfare grants to war veterans and general support for the Bolagala Home which is situated some 50kms outside of Colombo. The home was established almost 30 years ago and currently provides accommodation for 25 veterans, 8 of those being RCEL eligible beneficiaries. In 2013 RCEL submitted a bid to Seafarers UK on behalf of SLESA for a Caring and Sharing Project. A generous grant of £5,000 was awarded and used to purchase wheelchairs, walkers, walking sticks, hearing aids and spectacles on behalf of World War 2 Seamen.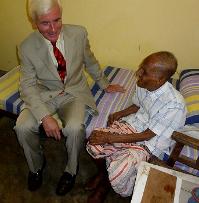 Controller Finance with Mr S Danapala who served with the Navy and is now 92 years of age. He is resident at the Bolagala Home.
ST LUCIA 12 – 22 JANUARY 2014
Controller Welfare

The St Lucia Legion Branch of RCEL have 95 registered eligible veterans and widows. From this number there were 24 veterans and 24 widows who received invaluable support from the Royal Canadian Legion.

The veterans also receive a Legion 'membership card' which entitles them to free Government prescriptions. As is the case with most Caribbean countries, the drugs available through Government pharmacies are very limited and frequently the Veterans have to source the necessary drugs from private chemists at a significant cost; the Royal Canadian Legion do assist with the purchase of these drugs.

The increasing cost of living was also highlighted by many of the veterans and widows, and the cost of diapers which a number of members require. Diapers are imported and are very expensive in comparative terms.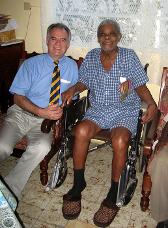 One of the many veterans visited was Mr Antoine Emanuel. He is 92 years old and suffered a stroke 3 years ago; he has made a partial recovery but is very frail and incontinent. He deployed to Italy with the 1st Bn Caribbean Regt on board the USS Santa Rosa and recollected a number of German U-Boat attacks as they crossed the Atlantic. His reputation as a first class cook is remembered well by all his comrades in the Legion who served in Italy and Egypt with him. We delivered his grant payment for which he was very grateful.

ANTIGUA 12 – 22 JANUARY 2014
Controller Welfare
The Antigua and Barbuda Ex-Servicemen's Association, which has only recently re-joined RCEL, is well organised and the Executive committee is very focussed and enthusiastic. At the time of the visit they had 16 eligible veterans and widows, 8 of those being ex World War 2 veterans. There are 2 veterans located on the island of Barbuda who have recently been discovered in great need of assistance; they received an immediate needs grant from RCEL which was personally awarded to them by Mr Keith Eastmond, the Secretary of the Association. The Association have many initiatives planned for the future including the renovation of their buildings, which includes the provision of B&B accommodation for veterans in need, and improvements to the Memorial Gardens.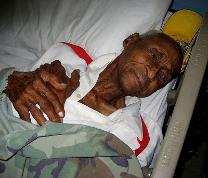 Mr Allan Halliday who is resident in the Fiennes Institute Care Home. He served with the Royal Engineers and is very frail; he is bedridden and requires full time care. He is pretty much incoherent but seemed to understand who we were and appreciated the visit.

GRENADA 12 – 22 JANUARY 2014
Controller Welfare
The Grenada Legion had 11 identified and eligible beneficiaries, 5 veterans and 6 widows. The Royal Canadian Legion has been supporting these veterans and widows with an annual grant. In addition, and as a result of prudent management by the Executive Committee, the Grenada Legion have awarded additional grants to their members, drawing down their own funds as a policy decision within an environment of declining beneficiaries.

RCEL - Royal Commonwealth Ex-Services League - Registered Charity No. 1174874 - Haig House, 199 Borough High Street, London SE1 1AA, United Kingdom - Telephone +44 (0)20 3207 2413
Legal Notice
-
Contact Us