The production of the Annual Report each year is always a time for reflection. When I was appointed Chairman of SCOWP in 2012, RCEL supported over 12,700 ex-servicemen, women and widows; in 2016 I can report that we assisted 9,835, a reduction of more than 22% over a four year period. It is very sad to see so many of our beneficiaries passing away but of course it is not unexpected.
...read more...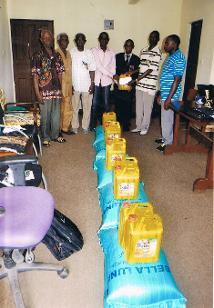 It was was an exceptional year for RCEL in 2015 and one of record expenditure; we were able to distribute over £2.84M in global welfare of which £1.75M came from our own funds and the balance from other UK Service Charities and Founder Members. This significant increase was due to the surprise award of Libor funding by the Government. This enabled us to directly assist 10,504 ex-servicemen, women and widows who served the Crown and live in 50 countries.
...read more...
SOUTH AFRICA - SWAZILAND - ZAMBIA AND MALAWI - BURMA - NEW DELHI - BANGALORE - CHENNAI - NIGERIA - GHANA - SIERRA LEONE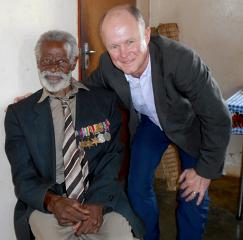 Umsizi, the Ex-servicemen's Welfare Association of Swaziland joined RCEL in 1984. Previously it had been assisted by the British Army Training Team which ceased when the team was withdrawn in late 1995.
...read more...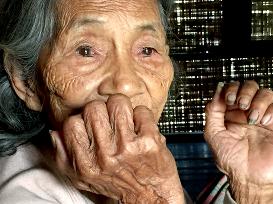 Robert Bruce is the RCEL Council Member for Burma. This visit was an opportunity for him to meet with Naw Jercy, our volunteer and co-ordinator in Yangon, visit veterans and widows in Yangon and purchase a computer for Naw Jercy and the Rev Cung Hup, our volunteer in Kalaymyo, Chin State.
...read more...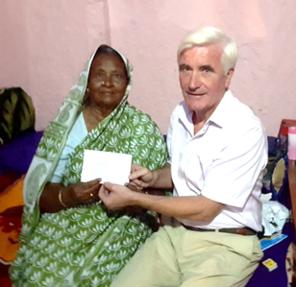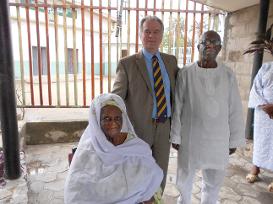 Captain John Adole and
Controller Welfare with
Mrs Sidikat Abbas who is the
widow of Pte Gboladeh Abbas
who served in the
Middle East and Burma;
he had died in 2002.
...read more...
ZIMBABWE - BOTSWANA - SOUTH AFRICA - TANZANIA - BELIZE - TRINIDAD - GUYANA - BURMA - CAMEROON
PAKISTAN - BANGLADESH - KENYA - SEYCHELLES - MAURITIUS - MALAYSIA - SRI LANKA - ST LUCIA - ANTIGUA - GRENADA
SINGAPORE - CYPRUS - BURMA - UGANDA - LESOTHO - MALAWI
ZAMBIA, ZIMBABWE, SOUTH AFRICA - MONTSERRAT, TRINIDAD & TOBAGO,
GUYANA

- INDIA: NEW DELHI, BANGALORE & CHENNAI - GAMBIA
MALAYSIA & SRI LANKA - TANZANIA - BELIZE, CAYMAN ISLANDS & JAMAICA - GHANA, NIGERIA & SIERRA LEONE - SOMALILAND
RCEL - Royal Commonwealth Ex-Services League - Registered Charity No. 1174874 - Haig House, 199 Borough High Street, London SE1 1AA, United Kingdom - Telephone +44 (0)20 3207 2413
Legal Notice
-
Contact Us